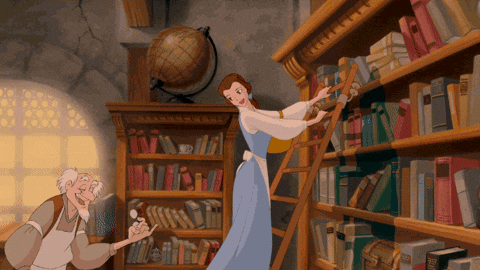 This post has been a long time coming. Because, well, I feel for books. They are sacred and have a special energy to them. They deserve to be acknowledged and showed off in ways in which we can use them and love them. (Yes, I've been watching Marie Kondo. Her Shinto ways have rubbed off on me.)
A few blog posts ago I wrote about god-awful design trends, and in that piece I listed "backwards books" as one of my decorative pet-peeves. Out of the five fads I listed, most readers reacted to this specific design trend — and clearly people were just as appalled as I was!
Since then, I've taken note of bad book styling fads that are happening via Instagram and lifestyle blogs. And you'd be surprised to find out that people are doing all sorts of silly things to display their tomes. Backwards paperbacks are just the tip of the iceberg. Looming under the surface is a behemoth of #shelfies that will give any bibliophile a heart attack.
With that said, I am forewarning you: the following images might send bookworms into a catatonic state. So prepare yourselves. Take a deep breath. Slam a beer. Take whatever measures you need to get yourself through this.
Backwards Books
This is the image I posted on the blog that caused outrage among my bookie friends. Spines backwards with pages facing outward — total sacrilege.
2. Books In Fireplaces
This one is a double-whammy. Not only are these books backwards but they are stored in a fireplace! You might as well just soak them in kerosene and call it a day.
3. Jenga Tower of Books
Consider this: You need the book at the bottom of that stack. Enough said.
4. Color-Coordinated Books
The rainbow book styling trend has been happening for maybe 8 years now, and I'm surprised it's lingered this long. I can't imagine hunting for a book in this colorfully chaotic situation. How are you supposed to find what you are looking for? For instance, on our bookshelves everything is organized by subject matter and author so we easily can find what we're looking for.
Jane Austen should be hanging out with her compadres Daphne du Maurier and the Brontë sisters, because they are bad-ass British betches who wrote about love. Jane Austen shouldn't be snuggled up next to depressing Leo Tolstoy just because they both have blue spines. What an asinine thought.
. . . 
As you can see, book styling is a very personal and polarizing topic. As an avid reader who lives in a  house where there are books in pretty much every room, I believe in just letting books be. You don't need to create intricate sculptures out of them or start displaying them in odd places like your staircase or furnace just to be cool and trendy. Put them someplace nice and thoughtful where you can use them as God intended. Amen.
xo, marissa