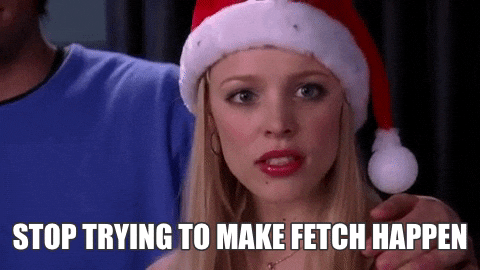 As I mentioned in my inaugural 2019 blog post, I'm going to start using this blog as a counterpoint to other lifestyle publications out there. So with that said, we are just going to dive in, okay? Because I can't wait to get started.
With most design sites talking about the top trends to expect in the new year, I'd like to take some time to discuss current design crazes that are actually crazy. Out of all the interior blunders out there, I decided to mention five prevalent fads that I think aren't visually appealing and don't work functionally.
1. COLOR BLOCKING WALLS
This post originally was inspired by the above image, which kept popping up in my Instagram feed. After feeling personally victimized by this image (just kidding, but not really), I started noticing other "color blocking" images on social media. After seeing around five of these photos in one week, it occurred to me that this is actually happening: people are painting half their walls (trim, doors and all!) one color and then the other half another color. How disorienting and silly.
It looks like the point where the vanilla meets chocolate in a carton of Neapolitan ice cream. Is there a strip of strawberry pink at the top of the wall, I wonder?
What I want to know is: how long is this trend going to last? If it is short-lived, do homeowners really want to be repainting their walls again in the next year or two? It doesn't seem like something that is here to stay.
I welcome interior designers to intelligently comment on why this doesn't work visually, because my ice cream simile is far from profound.
2. AREA RUGS ON BEDS
Now this is just bananas. Why on earth would you drape a rug that you walk on over your bed, a place where you rest your head? Reasons you shouldn't do this at home: 1.) Health-wise, this isn't hygienic. This is me assuming the rug has been walked upon at some point in its existence. 2.) Functionally, it's difficult to snuggle under a stiff rug. Nobody can get tucked in properly like that!
Maybe I'm missing something though: it looks like this look is cat-approved.
3. UNFINISHED SPACES
I guess you could call this look avant-garde? This Berkshire Mountain lodge embraces a crude look with exposed cider blocks, unfinished walls and boarded-up windows. While I do enjoy raw elements like untreated wood, this goes a little too far for me. Rather than a relaxing retreat this space looks like a room where a bunch of angsty teens might hole up for a night of binge-drinking and chain-smoking.
Villa Moelven, a beach house located outside of Stockholm along Sweden's coast, is another example of this trend. This space appears a little more "finished," but the abundance of raw wood still seems excessive and aggressive to me.
4. ALL-WHITE SPACES
First off, I think it's really hard to achieve a good-looking all-white space that is clean and sophisticated. You must have a great eye for design. You also have to employ lots of texture, play with dimension and consider proper lighting.
To me though, most all-white spaces read as cold and clinical, sterile environments that are void of warmth. I've noticed that most minimalists choose this monochromatic scheme. But I'll let you in on a little secret: you can still be a minimalist and embrace pigment. As Nathan Lane so famously says in "The Birdcage," "One does need a hint of color."
Maybe I should write a blog post dedicated to nailing an all-white space. Thoughts?
5. BACKWARDS BOOKS
I saved the "best" for last. As a bibliophile and lover of words, this design trend might just be the bane of my existence — storing books backwards, pages facing outward. It's pure lunacy.
Functionally, it doesn't make sense. I mean how on earth are you supposed to find that Jane Austen novel? There goes an hour of your day just searching for one little book. Aesthetically it looks bizarre. Your friends are going to think you lost your mind.
If you are embracing this trend at home, I warn you against taking any Instagram #shelfies. Last year Apartment Therapy posted an image on their Instagram account of a shelf filled with backwards books and there was a huge public outcry. (Does anyone else remember this?!) Fervent readers left hundreds of comments, and I found myself falling down a social media rabbit hole reading everyone's sentiments. My favorite commenter suggested that it looked like whale baleen. She wasn't wrong.
Thanks for taking the time to read my first design post. This piece took on a more feisty tone than usual since it was a critique. But know that in the future you can expect to find posts written in an array of voices as I take on different attitudes. In response to this post, I'd love to hear your thoughts on these fads or even current crazes you wish would disappear. Many thanks, marissa